September 1, 2016 Via www.thebrpage.net
Bad Religion to play Ye Scallywag!
Bad Religion will be playing the new punk (and beer) festival Ye Scallywag! this fall. The brand new festival, which will take place at the Waterfront Park in San Diego, is presented by San Diego radio station 91X.
The festival takes place on Saturday October 22. Other bands that have been confirmed are NOFX, Against Me!, Goldfinger, Reel Big Fish and Wakrat. There will also be over 100 craft breweries and artisan wineries.

Tickets sale starts on Friday September 2!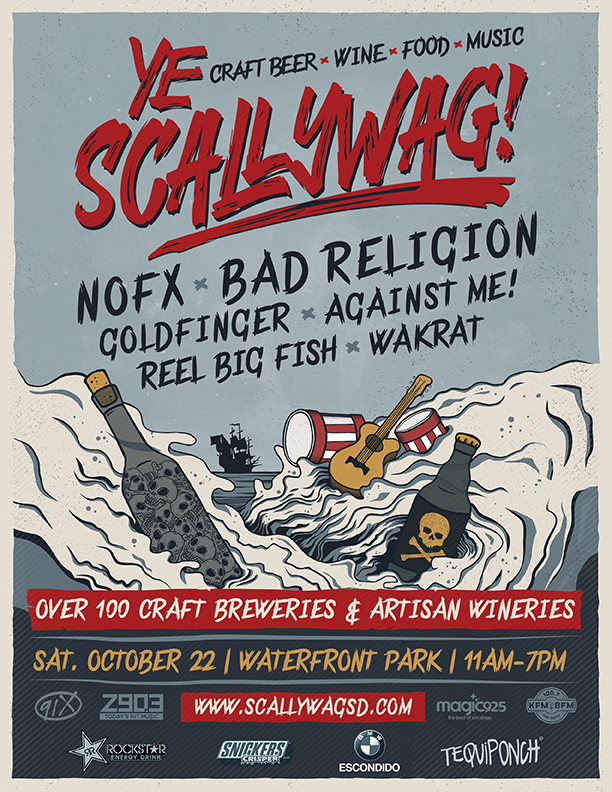 Read More
July 11, 2016 Via www.thebrpage.net
Vox Populi Tour: Bad Religion and Against Me!
UPDATE (7-18-2016): Second night Irving Plaza (10-4) added!
UPDATE: to Jay on Instagram, these are all the confirmed dates!
We are happy to announce that Bad Religion will be touring the US with Against Me! this fall. Several dates have popped up on Live Nation and it's most likely that there will be more soon!
The tour is named the "The Vox Populi Tour" (which means "voice of the people" in Latin). Dave Hause will also be supporting (*).


Date Venue 9-30-2016 Starland Ballroom, Sayreville, NJ 10-1-2016 The Paramount Huntington, Huntington, NY 10-3-2016 Irving Plaza,…
Read More
June 10, 2016 Via www.thebrpage.net
Bad Religion to play Envol et Macadam festival!
Another festival show announced! Bad Religion will be playing the Envol et Macadam festival again. The festival will take place from September 8-10 in the Parc de L'Ilot Fleuri in Quebec City. Other confirmed bands are Me First and the Gimme Gimmes, Mad Caddies and The Sainte Catharines. More bands will be announced soon.
More information about the festival and ticket sale can be found on the official website here.
Read More
Updates
Charlotte. Daniel. Olivia. Josephine. Dylan. Catherine. Chase. Jesse. Ana. James. Madeleine. Grace. Emil… https://t.co/ehbqw4WFfH

11 hours ago

Donald Trump Did It via @NYTimes https://t.co/Z08DD8aAhy

22 hours ago

RT @danieldennett: I 'm not used to being rescued by African Americans in Alabama and it feels fine! Thank you. You did something that was…

25 hours ago

RT @davidfrum: When a president dips below 50% approval, average House loss for his party in next off-year election=32. But the average for…

31 hours ago

i always believed politics meant discourse between scholars with opposing views. never imagined it would become newtons 3rd law for dummies

33 hours ago

'Fake News,' Trump's Obsession, Is Now a Cudgel for Strongmen https://t.co/Mp2ma0yeo8 https://t.co/vRa9JzSYZf

34 hours ago

I believe in a free press and journalistic integrity far more than the benevolent honesty of politicians -… https://t.co/in9McN5W3r

35 hours ago

RT @nytimes: Breaking News: The Democrat Doug Jones won in Alabama. The upset trims the GOP Senate majority to 1 and is a snub of President…

45 hours ago

RT @ohmyrocknessLA: Just Announced: @JoyceManor add second show at Union Station on Saturday, January 20th #dope https://t.co/YRL1ASFGIt h…

45 hours ago

RT @drepurse: Happening in AL 1. 3 ID checks at polling places 2. 90 min waits in predominantly af-am precincts and no wait at white ones…

2 days ago
Contributors